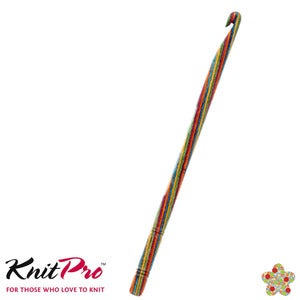 €

5.50
EN - Symfonie Wood Crochet Hook
(Single–Ended)
Length: 15 cm - 6"
Characteristics:
- Designed by Crocheters themselves.
- All crochet hooks are hand–crafted by skilled artisans.
- All crochet hooks come with grooves that prevent stitches from sliding off the needle.
- Extremely Attractive Colour Combination.
- Lightweight, yet exceptionally strong & durable.
- Lustrous Wood Surface designed to provide more grasp to easily cope with slick yarns like angora and mohair.
ES - Agujas de ganchillo Symfonie Wood
(un gancho)
Longitud: 15 cm - 6"
Características:
- Diseñadas por los propios 'ganchilleros'.
- Todas las agujas de ganchillo están elaboradas a mano por talentosos artesanos.
- Todas las agujas de ganchillo incluyen hendiduras que evitan que los puntos se deslicen por la aguja.
- Combinación de colores extremadamente atractiva.
- Ligeras aunque excepcionalmente robustas y duraderas.
- Brillante superficie de madera diseñada para proporcionar mayor agarre: ideal para enfrentarse a hilos delicados como la angora o el mohair.